Commercial properties that sell
Experience stunning, interactive 3D walkthroughs that bring your commercial properties
to life and make it easy for potential buyers to visualize their future spaces.
Video Fly-through

150 Lonsdale

Video Fly-through

150 Lonsdale
Step 01
Send us your floor plan
Our team works to even the most tentative plans so upload what you have and we'll get in touch with you and your team as soon for further consultation and quoting.
Step 02
We create your model
Once we have your plans and you've confirmed all the details, we'll push your model into full 3D model production.
Step 03
Access your go-to-market 3D model
With your model complete, you can easily implement your model with your existing market infrastructure.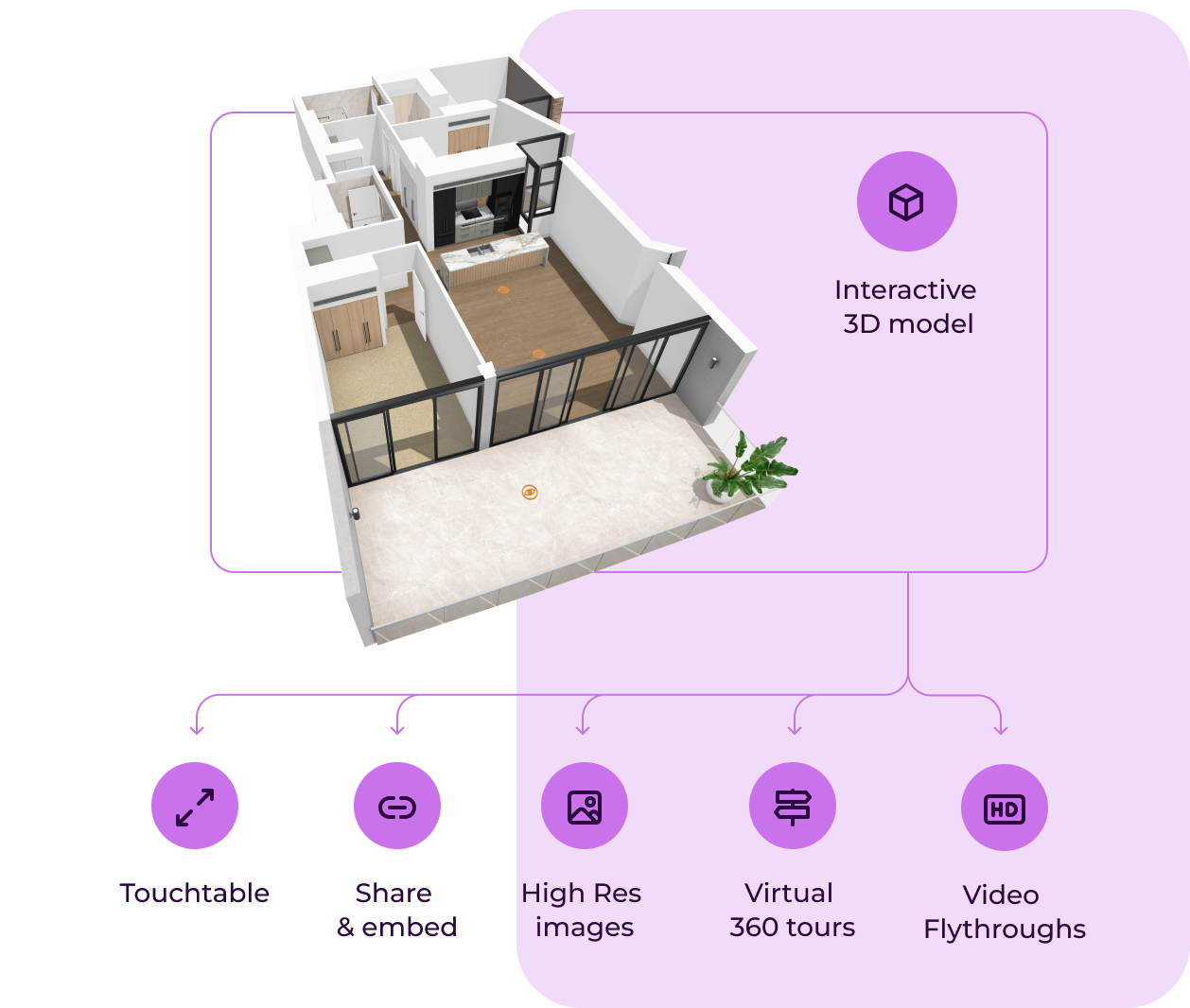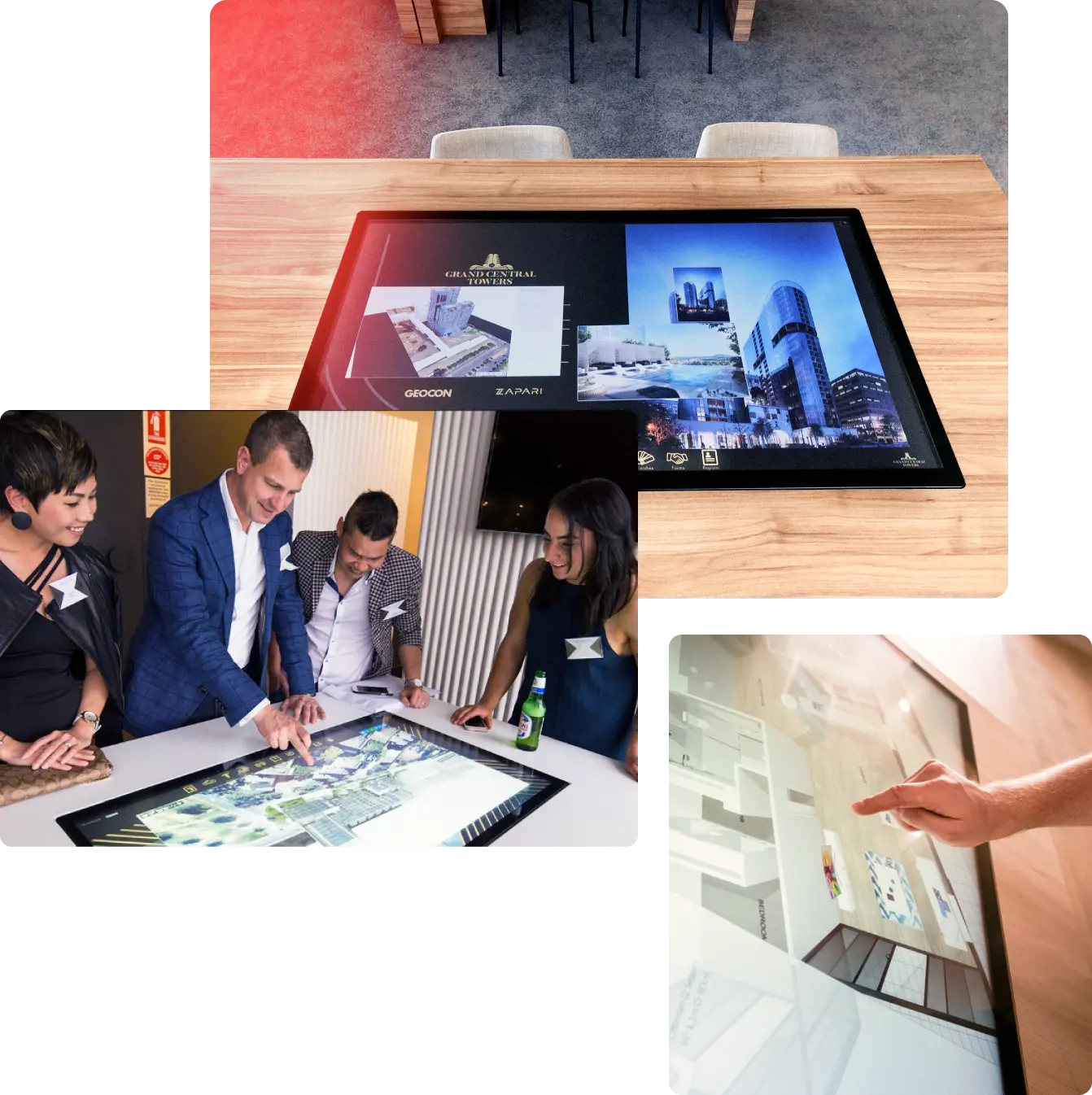 Touch table
interactions
Engage customers offline, in the property office or at an event, the touchtable is a great sales tool for immersing your prospective buyers
Ultra HD and 4k
Anti glare and scratch resistent
Quick & smooth touch response
Compatible with Windows, iOS & Android
Frequently Asked Questions
Not sure where to start? Does your property have unique specs? Take a look at our FAQ for more info on specifics.
Still have questions?
Drop us a line and we'll get back to you as soon as possible.
What do I need to get a quote?
A site plan in pdf, jpeg or png format
The measurements of the building/s that need to be quoted in either square feet or meters.
Once you've sent through this information, We'll get in touch with you to flesh out your needs, and quote you accordingly
What do I need to get started?
An email approval of the quote
If the project is over $10,000, we require a 50% commencement deposit from the client (FYI we will start before the deposit is paid)
A set of architectural plans for the project that should include:
• A detailed site plan of the site
• A detailed site plan around each building
• Building elevations with texture and colour details
• Civil plans
• Landscaping plans
• Roof plans
Any other details that are available
• If available a 3D file of the building/s in fbx file format
• If available CGI images of the site and buildings
• If available – any marketing info including the project brochure
How much will my project cost
Price is per building
If the client requires us to create a 3D model of 2 x 100,000SF (square feet) buildings then we quote for the fee of a 100,000 SF building x 2
Is it cheaper if I provide a 3D file?
No, it takes us the same amount of time to create our 3D models with a 3D file. However, 3D files have more info than 2D files so they are great when available. When we get a 3D file we need to re-create the file and optimize it for our platform so that it can be opened on any device
How long will my project take?
In general 5 to 6 weeks once we receive all the info but this will depend on our workload at the time
What are the ongoing fees?
We don't charge any ongoing fees or charges for storing your project after completion. This may change for future projects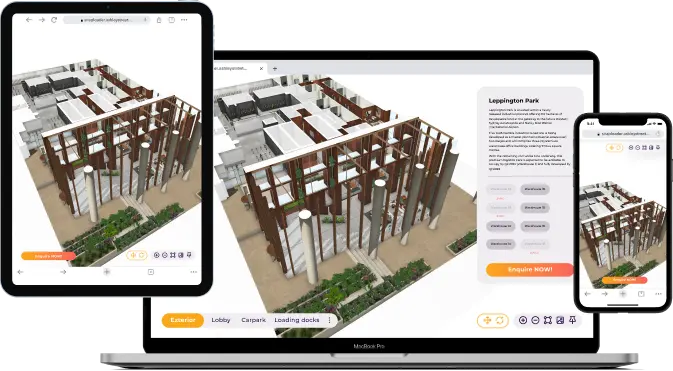 Get started
Upload your floorplan TODAY or contact us directly